Did you know that your Internet Explorer is out of date?
To get the best possible experience using our website we recommend that you upgrade to a newer version or download another web browser.
A list of the most popular web browsers can be found below. Just click on the icons to get to the download page.
Your browser will need to close to complete the installation and you will need to manually reload the site when finished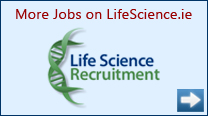 Sorry
There are no Open Vacancies that Match your Search
Other similar job titles you may be intertested in include:
Regulatory Affairs Manager
Compliance Specialist
Please view a sample career profile in the box below
or
click here
to browse all open vacancies
Regulatory Affairs Officer Career Profile
Regulatory Affairs Officer
The Regulatory Affairs (RA) department is tasked with ensuring that the company complies with all of the local and international regulations and laws pertaining to their business. The Regulatory Affairs Officer works with international, state and local regulatory agencies, such as the Irish Medicines Board (IMB), the European Medicines Agency (EMA) and the Food and Drug Administration (FDA) on specific issues affecting their business. The Regulatory Affairs Officer advises the company on the current regulatory aspects and climate that would affect proposed activities. The RA Officer has many interactions within the medical affairs dept. including medical information, pharmacovigilance and clinical trials.
Key responsibilities of the Regulatory Affairs Officer
Maintenance of Irish and overseas licenses including preparation of variation and renewal applications as appropriate.
Preparation and submission of Marketing Authorisation applications to EU regulatory authorities.
Preparation of dossiers to obtain CE marking for medical devices.
Ensuring Labelling complies with appropriate legislation.
Ensure approved regulatory requirements are enforced in-house.
Participate in the development of electronic submission of dossiers.
Provide support to R&D projects; including new product introductions, changes to existing products and processes.
Liaise with suppliers, clients, development partners and regulatory bodies.
Ensure guidelines and knowledge of legislation is current and be able to advise of future developments and changes.
Monitor the process of regulatory submissions, responding to queries and ensuring that registration approvals are granted without undue delay.